This recipe is our favourite muffin recipe. It works perfectly every time without fail* and is really versatile, we usually add 200g of whatever fruit/nuts or chocolate we have hanging around or in the freezer, and we have made some AMAZING combinations – Raspberry and white chocolate is just delicious! Banana and white chocolate is another firm favourite and a good way to use up over-ripe bananas.
* It works every time – except that time I used plain flour instead of self-raising flour and forgot the baking powder too – they didn't rise at all!
I can't take credit for this recipe, a family member found it on this post on the MSE forum. It is a perfect dessert when you are on a budget! It works out cheaper than traditional cake mix because the recipe only uses one egg, and oil instead of butter (hang with me, it sounds odd but these are delicious!). The only difference to the original recipe is that I always add baking powder and up the temperature because I like them to rise!
It saves on washing up too because its possible to mix it all together in one bowl if needed (just add the wet ingredients straight on top of the dry), and it is so simple and quick to throw in the oven for a last minute dessert when you are all out of desserts!
They freeze well too, meaning they are perfect for lunchbox treats, just pop in your lunchbox straight from the freezer. They will keep your lunch nice and cool, and will be defrosted ready to eat by lunchtime – perfect!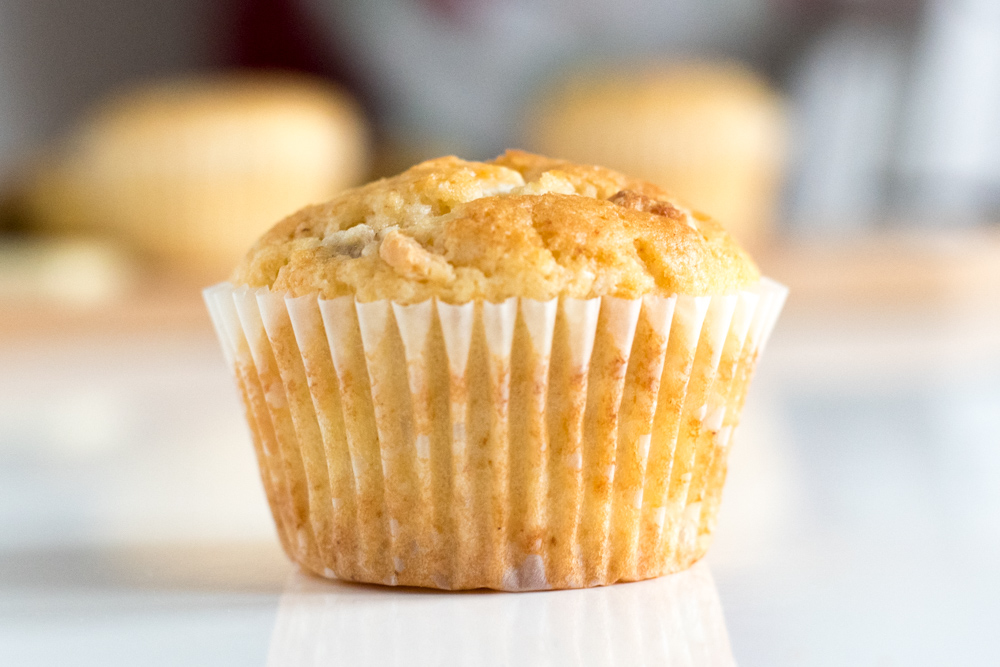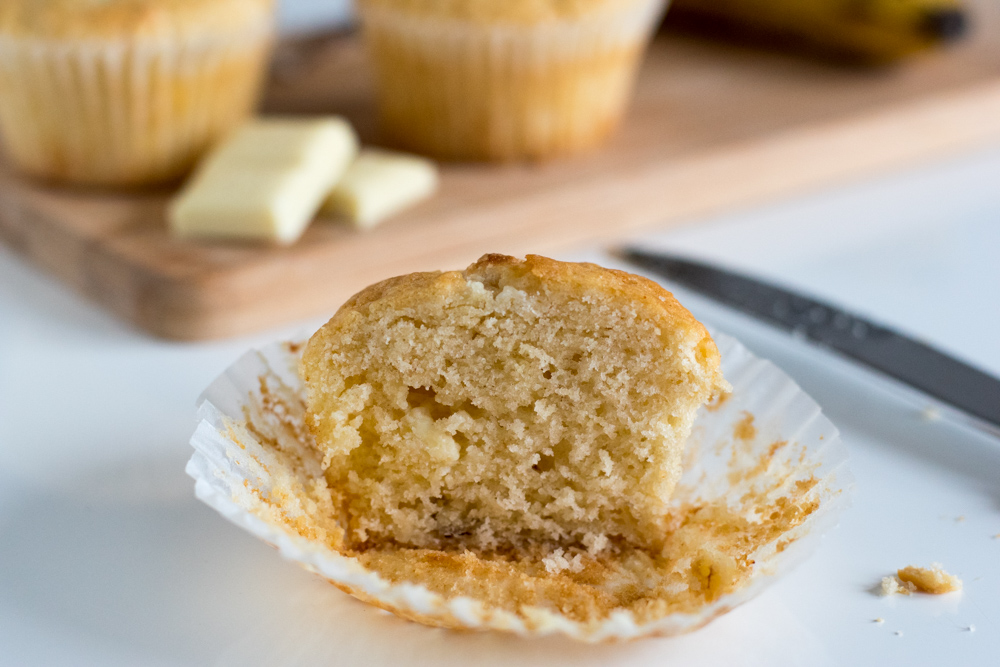 Basic Muffin Recipe
We love this versatile muffin recipe, you can make endless flavour combinations and it comes out perfect every time!
300 g self-rasing flour
150 g sugar
1 medium egg
175 ml milk
125 ml vegetable oil
1 tsp baking powder
200 g of you chosen fruit/veg/nuts/chocolate
Mix flour, sugar & baking powder

Add the egg, oil and milk

Mix together. The secret to well-risen muffins is not to overmix, mix for about 30 seconds, lumps are good!

Add 200g of your chosen ingredient (fruit/nuts/chocolate) See below for our favourite combinations!

Spoon out into muffin cases (makes about 12)

Bake at 205 for 15 minutes, or until a skewer comes out clean.

Cool on rack to prevent them from going soggy!
For best results don't stir too well, a few lumps are good! The more mixing you do, the more gluten forms which means they won't rise as well. So either just give a really quick mix, or leave the batter to rest overnight before baking – this will allow the gluten to settle back down.
The higher temperature also gives the muffins a head start as soon as they hit the heat, meaning they will rise better – somewhere between 205c and 215c is perfect, but keep an eye on them so they don't burn! 
IDEAS FOR DELICIOUS ADDITIONS!
We usually add about 200g of fruit, veg, nuts or chocolate to this basic recipe to make some delicious muffins!
We will add photographs of our favourite combinations as we make them! What's your favourite extra ingredient?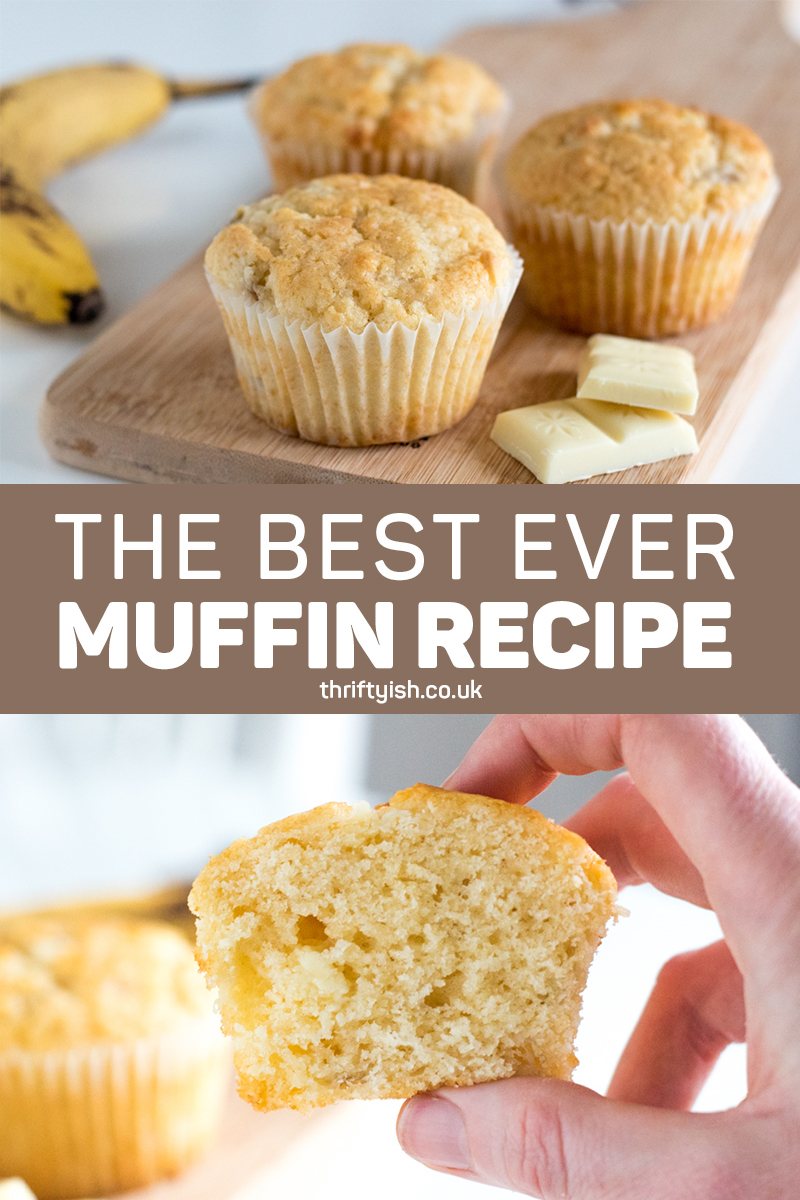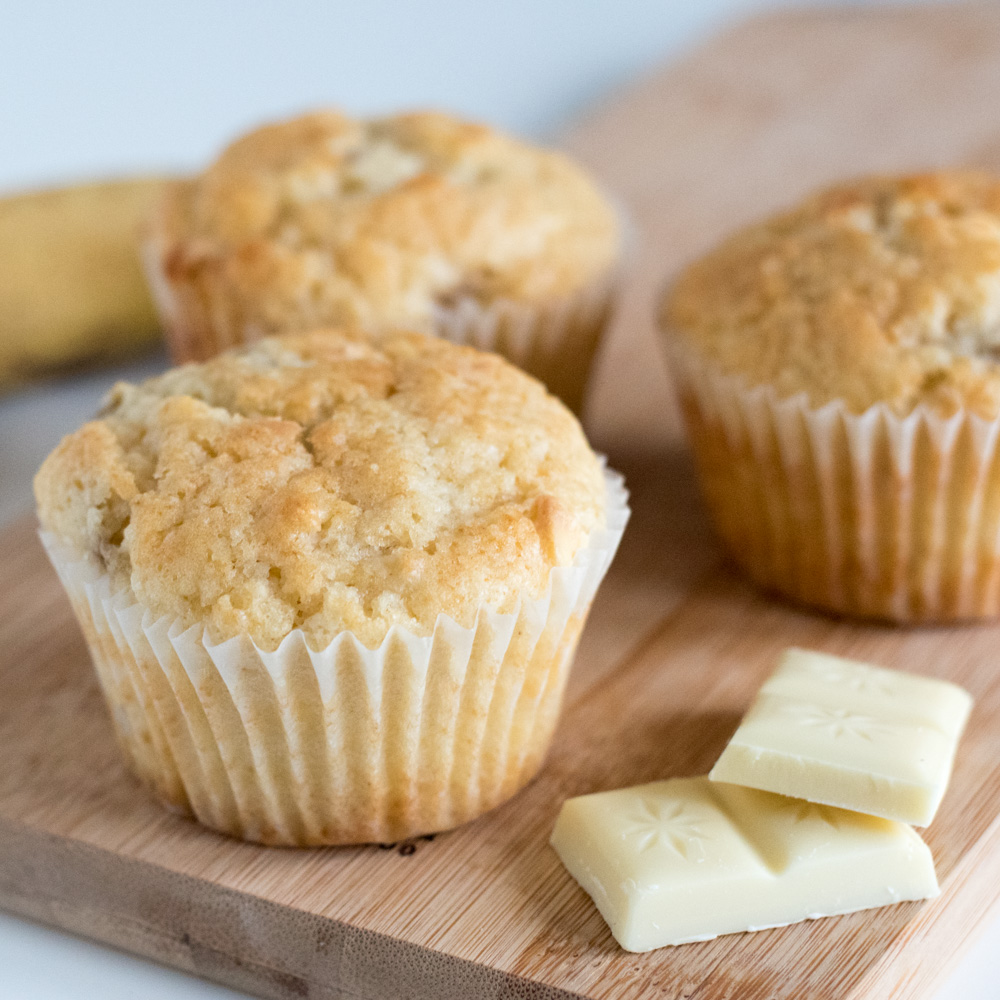 Banana & White Chocolate
100g banana & 100g white chocolate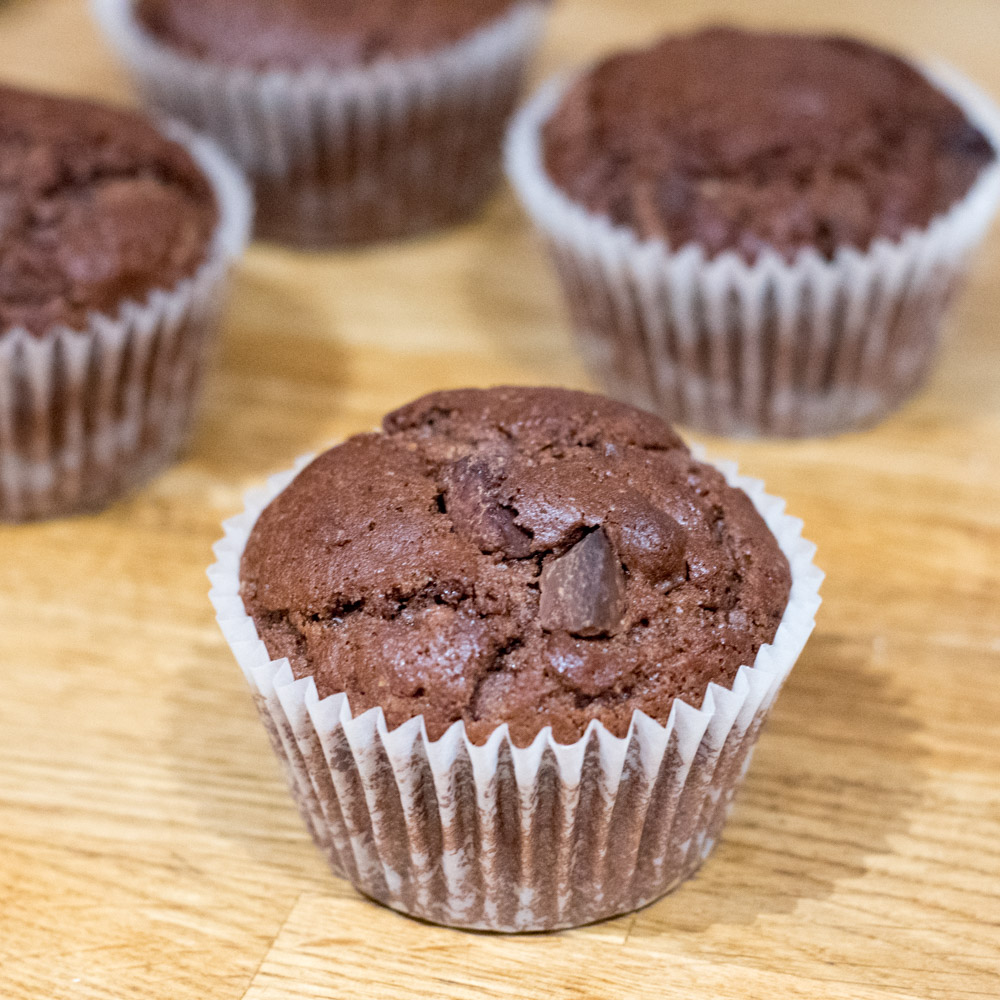 Double Chocolate
25g cocoa powder, 200g chocolate chips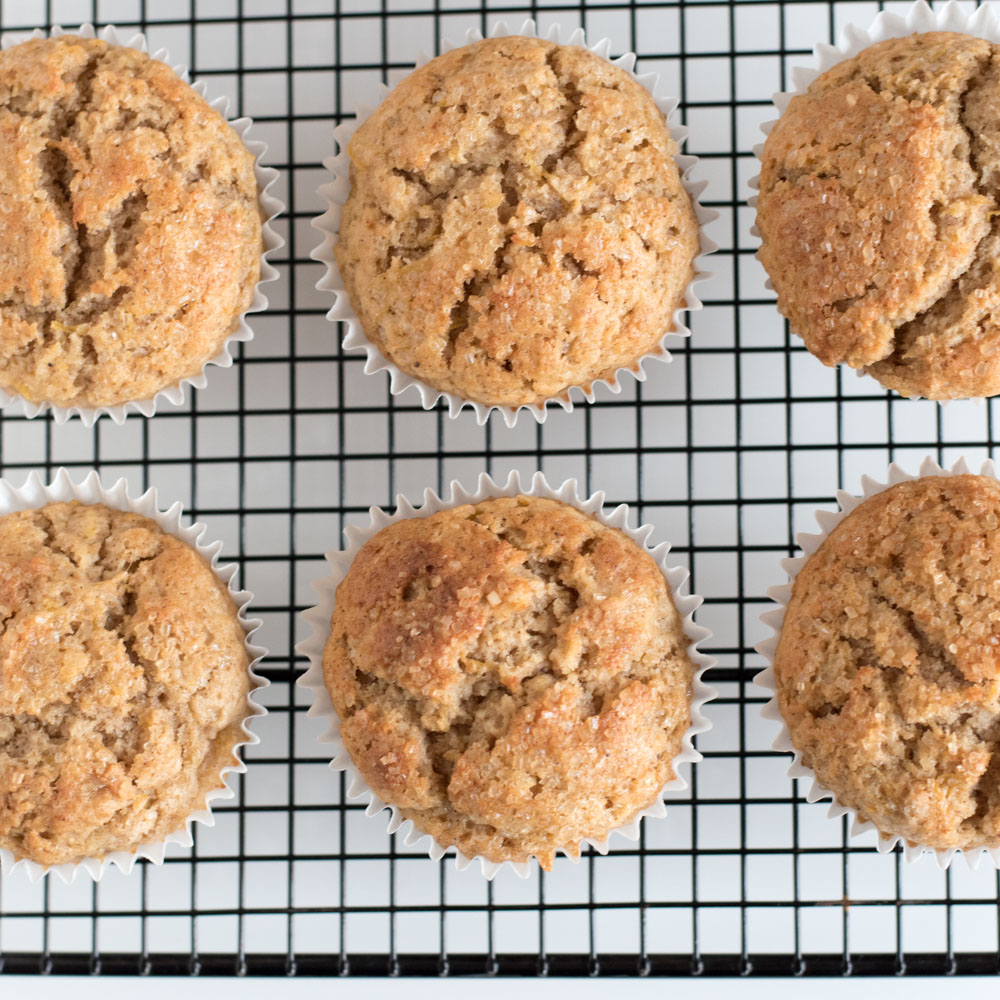 Pumpkin
180g pumpkin puree, 2 tsp cinnamon, 1 tsp nutmeg, 1 tsp allspice
Chocolate Chip
200g chocolate & 1 teaspoon vanilla essence
Cherry
200g Cherries (glace work out cheaper)
Raspberry & White Chocolate
100g raspberry & 100g white chocolate
Apple and Cinnamon
200g grated apple, 1 tbsp cinnamon
Walnut
200g roughly chopped walnut
Blueberries
200g Blueberries - top with demerara sugar
Coconut & Cherry
100g Coconut & 100g Cherry
Coconut, apricot & white chocolate
100g coconut, 50g apricot, 100g white chocolate
Sultanas, Apple & Walnut
100g grated apple, 50g sultanas, 50 chopped walnuts