In November we started a journey to a more sustainable lifestyle, but our journey was put on hold a little when my dad died at the very end of the month. January has been our first month with any kind of normality and thought it would be nice to document our progress as we go from an average UK household to a more sustainable one. One major factor in our decisions is the cost. We are a one-income family who are working towards becoming mortgage free in the next 6 years, so our decisions have to be economical as well as sustainable.
One Hundred Small Acts of Defiance
I should start by saying that I really dislike the term 'zero waste', which the popular term for this movement away from plastic. It makes it sound unachievable when really, every little step towards a more eco-friendly and sustainable life is an important one. It somehow makes the small changes seem trivial by focusing on the goal, or that's how it made me feel a few years ago when I very first started looking at my impact on the planet.
There are many inspirational people out there, who can put their years waste in a glass jar (and that is pretty amazing!), but small changes made by the many can have a big impact too. I feel that sometimes we also need to look at the big picture. It would be brilliant to live in a plastic-free world, but plastic does have its advantages; for example, it's safer for small children and lighter for the disabled. It would be incredible if science could provide us with a more eco-friendly answer, but it the meantime we will try and find some good swaps and alternatives instead.
So we set ourselves a challenge for 2018;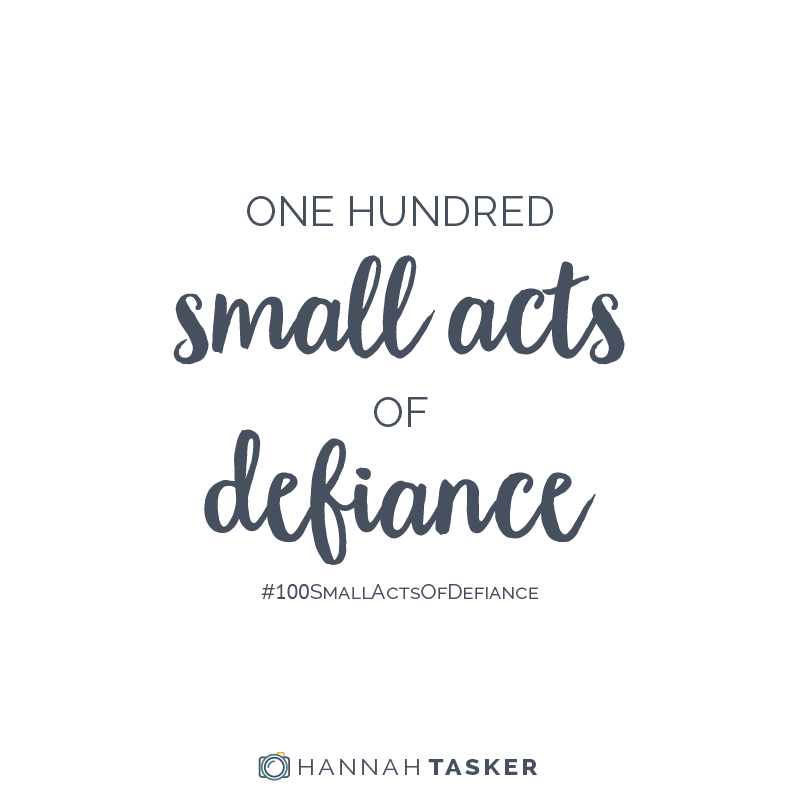 Our challenge is to find 100 small things that we can do to reduce our waste or reduce our footprint, and to write about them.
Our Progress In January;
Using White Vinegar as Fabric Conditioner
This was was an easy swap for us to make, it works really well and saves us money. I wrote about it here. We are still finding the balance with bigger loads like towels, because they need slightly more mixture to combat the static. If I am honest, I still do slightly miss the perfumy scent you get with commercial fabric conditioners but it's only a tiny niggle really.
We tried using white vinegar as a cleaning solution too to wipe down surfaces, but I found the vinegary smell overpowering. We currently fill an empty spray bottle with water and add a small capful of zoflora disinfectant to clean all our surfaces. We love zoflora, it smells beautiful and small (plastic) bottle lasts us months.
Menstrual Cup & Reusable Sanitary Towels
I thought I would try looking into a more eco-friendly period, but I was a little sceptical about the menstrual cups. I have to say I was really surprised at how comfortable and easy I found it to use. I love it! It will save us lots of money on disposable products too, so it really is a winner! More on this later….
An Eco-friendlier children's party
This little lady turned 7 years old, and she decided she wanted a climbing party at our local climbing wall. I absolutely love that she chose a climbing party and she had a brilliant time. We attempted a more eco-friendly day. She wanted party bags, so we bought colourful paper bags instead of plastic ones. Instead of plastic toys (that usually end up in the bin a few days later), we chose to buy a few multipacks of books, so we could add a book to each party bag. I struggled to find many plastic-free sweeties at a reasonable cost, but I did find some paper covered love hearts at the pick and mix section of wilko. We baked & iced cupcakes for the party too.
We did put an eco-unfriendly drink & sweets in the party bag too, just because it was hard to find alternatives! I am happy with the small changes we did make, and every small change step forward. Our mission for the next birthday in April (Amy will be 5 years old) is to make our own eco-friendly decorations.
Riverford Organic Fruit & Veg Delivery
We have been buying our vegetables from Riverford since November, it was one of the first changes we made. We love our Riverford delivery, and when my dad died, it really was a relief to know we had fresh fruit and vegetable delivered regularly. Riverford sell organic vegetables, that are mostly grown on their own farms. They are delivered to your door in minimal packaging, but (as you would expect), it is more expensive than buying non-organic vegetables from a supermarket. The reason I haven't switched back to a cheaper (more plastic covered) alternative is that I love Riverford's commitment to sustainability & ethics. I also love their customer service and newsletter from the owner Guy Watson, and for all those reasons I will continue to buy and support them.
We eat a LOT of fruit, we can easily eat 1-2 pieces each, so up to 12 portions per day! Having fresh fruit available is one of my non-negotiables and we usually supplement our delivery with supermarket fruit. Some fruit like bananas are really easy to buy loose, but other fruit I am struggling to find without packaging or spending time visiting several different shops.
Bamboo Toothbrushes
My electric toothbrush broke, so I decided to switch to a bamboo toothbrush. It has been a while since I have used a manual toothbrush so we will see how it goes. James (who is eight) mentioned it to the dentist on our last visit and the dentist thinks its a bad swap. Only time will tell!
Something more eco-friendly like this sounds like a fab alternative, but its only at the prototype stage at the moment, due to launch in Dec 2018. At the moment the shipping is quite expensive, so I am hoping when they release the product that its available to buy in the UK.
Our Plans for February
Research shampoo & conditioner bars.
Investigate cleaning with baking soda & castile soap.
Research exactly what plastics can be recycled curbside by our council, and if any others can be recycled locally. (This is mostly for bread bags, film covering and similar).
I would love you to join in too! Using the hashtag #100smallactsofdefiance or #smallstepstosustainability or leave a comment below;
Have made any eco-friendly changes this January?