My favourite time of the weekend is the part when we completely switch off from technology (well except the camera) and are able to fully live in the moment with the children. This weekend we even had an extra day, due to a teacher training day on Friday. This Friday in November each year is my absolute favourite. We headed out to Stockeld Park in Wetherby, North Yorkshire, and spent the day ice skating, skiing, adventuring in an enchanted forest and getting lost in the maze. It makes such a nice day out, and its a really good fit for all our children, from Ava at two years to James at eight.
Ice Skating
James & Lily loved the ice-skating but found it much harder this year without a penguin for support, and they both were a bit upset when they were struggling. I am so proud of their determination. I fell over once (and sadly have a photograph to prove it, thanks, Mr T!) and it completely took the wind out of my sails, and almost I headed straight off the ice for my boots!
Amy really needed her penguin for support, and even with it, she spent more time on her bottom! She still had a brilliant time and no matter how many times she fell over (we lost count but she was well into her thirties!) she still kept on trying! Ava we thought would be too little anyway at only two-years-old, but she has giant feet and is only one shoe size behind her four-year-old sister, they had special skates to fit over her shoes, and she was able to join in. She loved her penguin, but wasn't so keen on slipping so much on the ice!
We all enjoyed warming up inside with hot chocolates and some lunch.
Skiing
Last year, only James and I managed to ski all the way around. Lily (then 5, almost 6) and Amy (then 3) tried but couldn't go more than a few paces. This year we thought that it might just be James and Lily skating with Mr T (His turn this year!) The instructors at the skiing hut thought the same, explaining it was a fairly intense course and almost a mile long, and they recommend 6 years plus, but as long as they had shoes big enough, they were more than happy to let our little four-year-old Amy try.
Amy made it the way around the ski course and loved it. She was so proud of herself and the first thing she said when she got back was could I send a photo to her teachers at school!
The A-maze-ing Maze
They have added a few more things to the maze since our visit last year. I think it probably took around 30-40 minutes to explore, and there are a lot of things to see along the way,
The Enchanted Forest
This year was our first visit to the enchanted forest. James and I caught a brief glance last year as we skied past because the ski trail runs alongside the forest. The weather stayed dry so could visit the adventure play areas on the way around.
Mr. T had packed a flask of hot chocolate, so we found a picnic bench in the forest to have a break. We drank our hot chocolate while watching the water display. We entered the forest has the daylight was starting to fade, and by this time it was just starting to get dark and we could see the all the beautiful lights. It's definitely worth a visit in the daylight, but seeing it as it was getting dark was just magical!
It's moments and days like these that make realize just how lucky we are. Lucky to be well and healthy, have a cozy home and most importantly to have each other, I love my little team.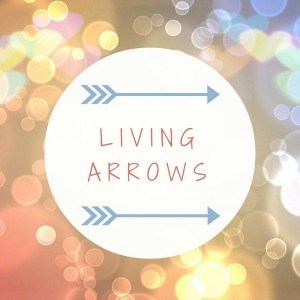 "You are the bows from which your children as living arrows are sent forth" – Kahlil Gibran